Coronavirus (Covid-19 Update) – 12th April 2021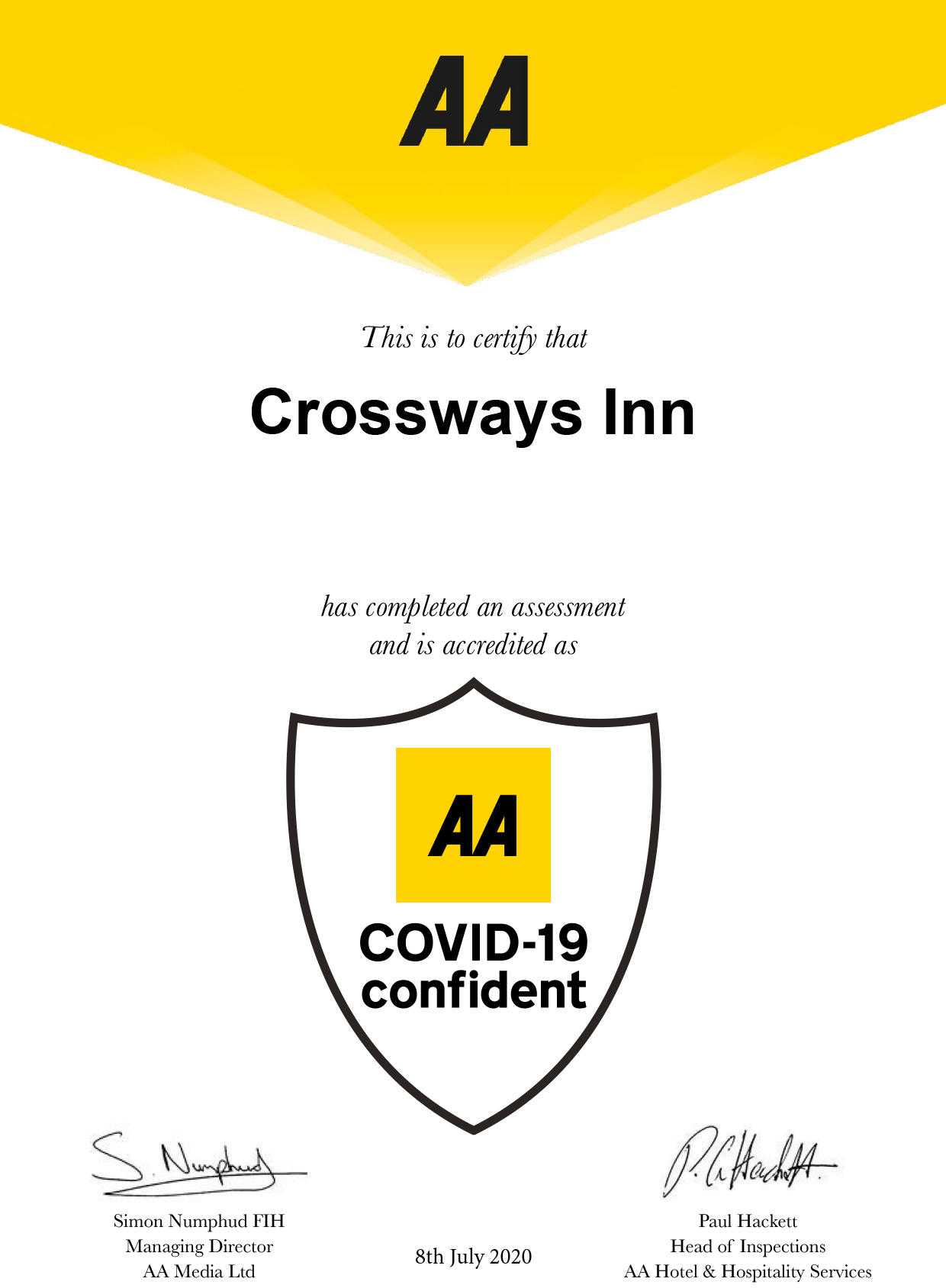 The Crossways highest priority is the health, safety and security of our guests, employees, business partners and neighbours. We are determined to support our local Infrastructure at this time of unprecedented circumstances.
The Crossways will be open for all guests provided they meet the guidelines issued from HM Government regarding COVID-19. You will be sent a pre-arrival email 24 hours prior to arrival date with the option to check in online and pick up your room key card at our COVID safe reception desk when you arrive.
If government guidelines prohibit the hotel from offering a full cooked breakfast in our COVID safe function space, we will offer all Guests a full cooked breakfast via room service or a pre-packaged continental breakfast in the morning at no extra cost. Please ask at reception for current options and to pre-order.
We are also offering food and beverages to our resident guests via room service and to all guests, table service to all outside seating areas. To order go to www.thecrossways.co.uk/order/ or ask your server for assistance. Our COVID safe bar and reception desk will be opened to offer assistance to any guest in need.
Further Information
For further details on government guidance regarding visits to hospitality businesses, see:
https://www.gov.uk/coronavirus
We have gone to great lengths and expense to create a Covid-19 safe environment for our guests, staff, business partners and community and would be grateful if you could adhere to our COVID-19 guidelines and respect our staff when they advise and implement them.
Hours of Operation
Please find below The Crossways hours of operation effective 12th April 2021.
Hotel Reception – Daily from 08:00 until 22:00.
Food via Room Service or Outside Seating Areas – Monday to Friday 17:00 until 21:00 and Saturday & Sunday 12noon until 21:00.
Drink via Room Service or Outside Seating Areas – Every day, 12 noon until 23:00.
Full English Breakfast or Pre-Packaged Continental – Every day, 08:00 until 10:00, please pre-order at Reception.
Please see www.thecrossways.co.uk/order/ for menu details or call us direct on 01749 899000 or alternatively email us at enquiries@thecrossways.co.uk.
Please Note:
We would be grateful if you could exercise good sense and patience as we adjust to the new Covid Guidelines. Due to social distancing our service times are going to take longer than usual but rest assured we will always try to do our best. Please keep in mind that our Staff have not become disease control experts overnight, but we will do our best to implement HM Government's Covid 19 guidelines.
Thank you for your support.
The Crossways Team